With our trading division handling new as well as used machines and equipment we have always a great choice of machines, plants and spare parts.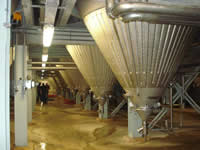 We offer to our customers worldwide:
Dismantling and packaging oft he equipment at site, transportation, overhaul, installation and commissioning at the customer.
According to the requirements the lines can be upgraded with new or used components
Our specialized workers do have a wide experience with the overhaul and commissioning of brewing and beverage machines and service worldwide.
By selecting the machine or spare you are looking forward you can find the at BTB available equipment. In case you need something different please send us your requirement. We can assist you to find a source of the equipment or we may offer you.
In case you want to sell your equipment please also contact us.
Components – Spare Parts
Always we store frequency converters, motors, pumps, valves, fittings and other parts at stock.